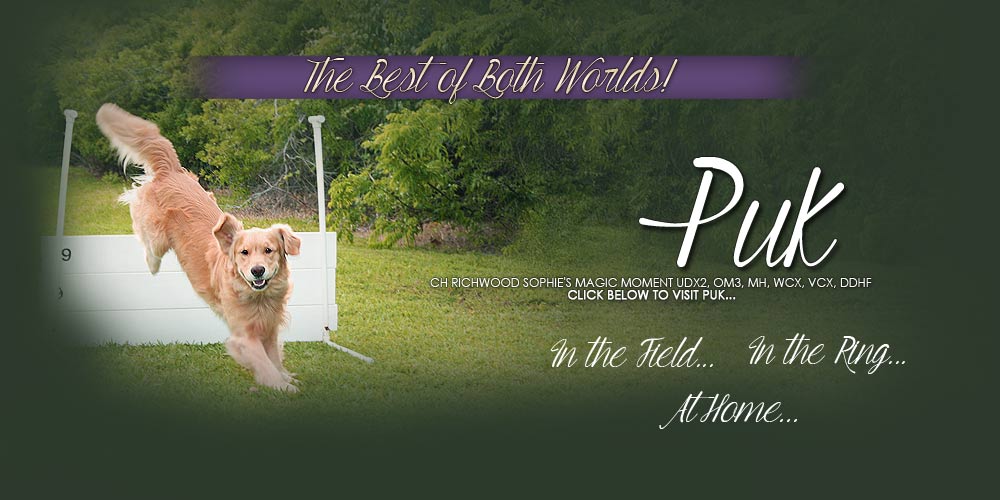 PUK QUALIFIED FOR THE MASTER NATIONAL IN 2015 AND 2016 AND IN 2018 HAS NOW QUALFIED FOR THE MASTER AMATEUR RETRIEVER CLUB NATIONAL INVITATIONAL
Puk finished his Championship in August 2016, with a five point major at the Western Regional Golden Retriever Specialty.
"We are proud to say that Puk went to Westminster in February, 2017, where he made the first cut!!!  He was beautifully groomed by Clint and Karen Livingston and professionally presented by Karen.  Puk was the ONLY dog in the Golden list with an MH!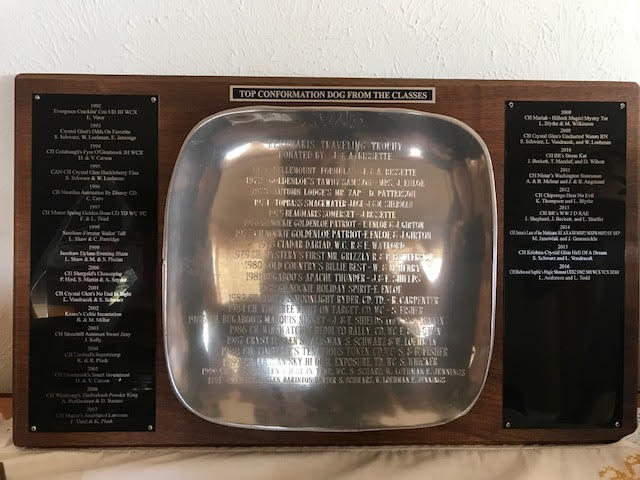 For his accomplishments in the breed ring in 2016 Puk won the Top Dog in the Classes Trophy from the Mile Hi Golden Retriever Club.  This trophy is awarded to the dog who has defeated the largest number competitors in the breed ring in a given year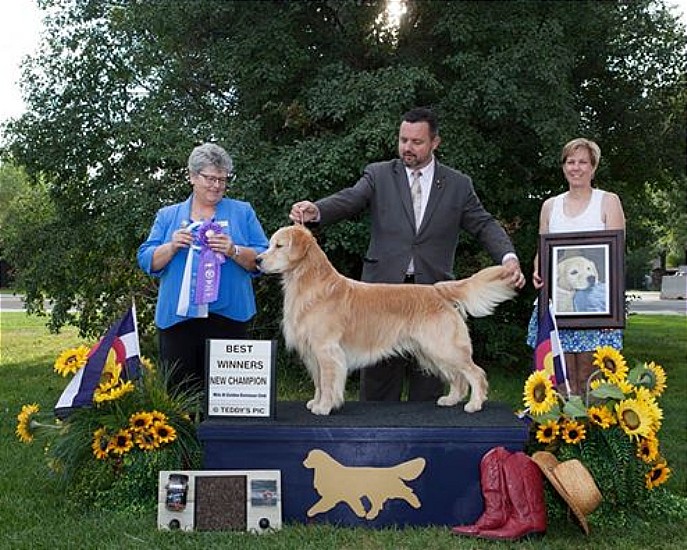 Michael Faulkner – 3 point major, West Volusia KC, September, 2015
Douglas Holloway – 2 pts, Greater Naples KC in October, 2015
Ellen Greenfield – 3 point major, Atlanta Golden Retriever Club Specialty, March, 2016
Steven Dainard – 3 point major, WD, BW, BOB, Flatirons KC, June, 2016
Nancy Talbot – 5 point major, WD and BW, Mile Hi Golden Retriever Club Specialty, August, 2016
Ellen Bartkus – Gun Dog Sweepstakes at the Eastern Regional Specialty, January, 2106
Professionally presented in the conformation rings by Morgan Brooks and Karen Livingston!  Thank you ladies for all you do!!!!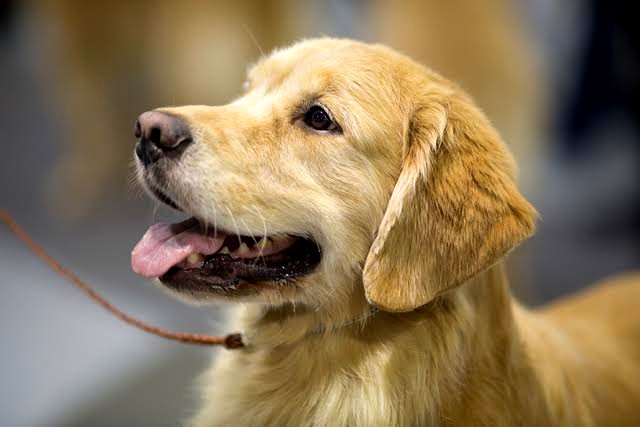 Puk won his first major on September 19, 2015.  He finished his Championship on August 18, 2016, with another major, all just within 11 months.  He finished with 4 majors under 4 different judges and only 1 non major win.  No chasing around for 1-2 years after those last 2 points for Puk.  He finished with a 5 point major.   We are so very lucky to have him!
Our thanks to judge Ellen Bartkus for Puk's Gun Dog Sweepstakes Win, January, 2016,  Mid-Florida GRC.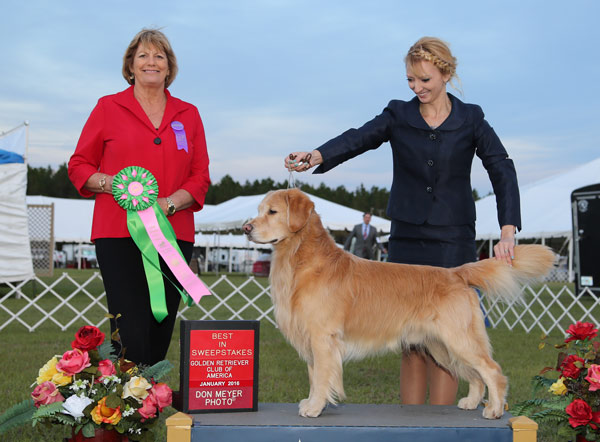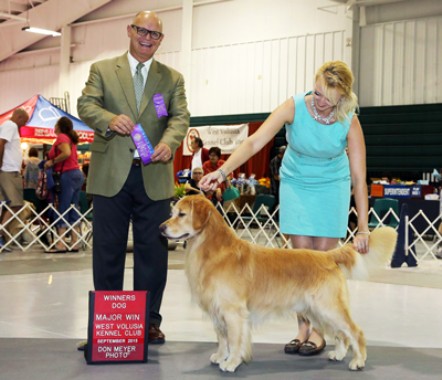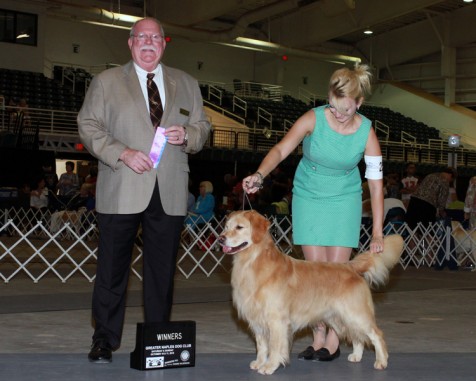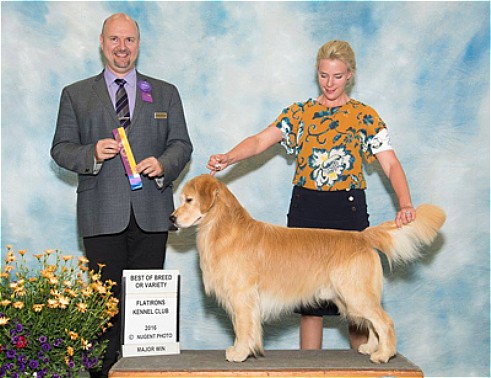 As for obedience, Puk earned his CD in 2011, his CDX in 2012, and his UD in 2013.  Since then he has continued to show in obedience.  Puk qualified for the Obedience Classic in Orland Florida in 2013 (Open), 2014, 2015 and 2016 (in Utility).  In 2014 he placed 10th in Utility.
Puk also has a series of obedience titles from the UKC.  He got his UCD in 2011, his UCDX in 2012 and his UUD in 2013.  The UUD is particularly difficult because the dog has to be able to handle in the ring, and to take casts in the ring, as he would in the field.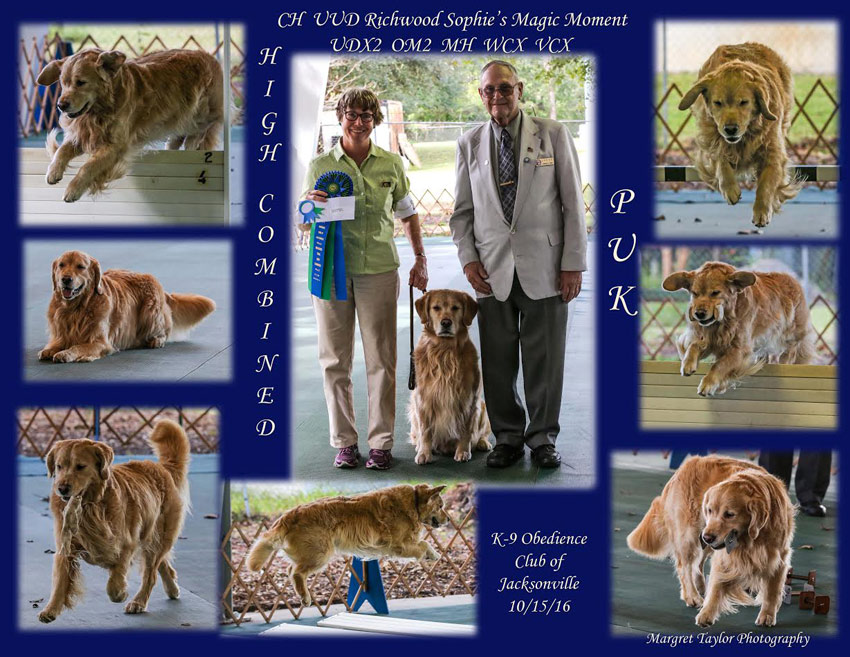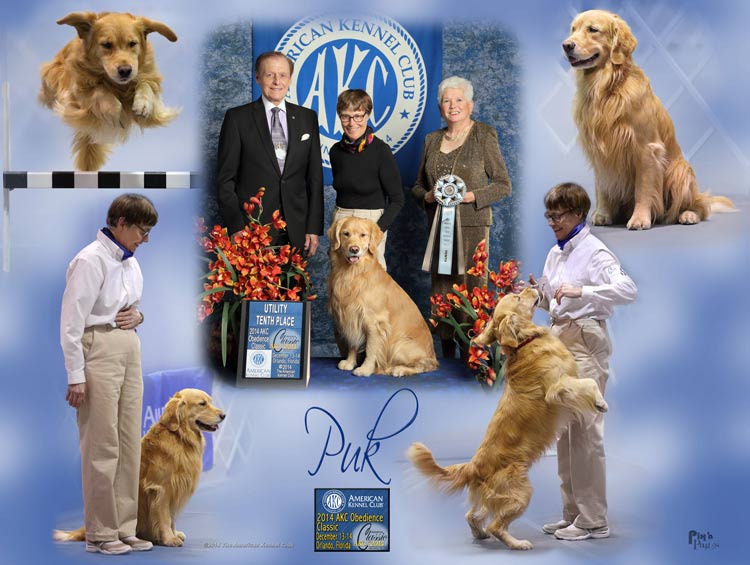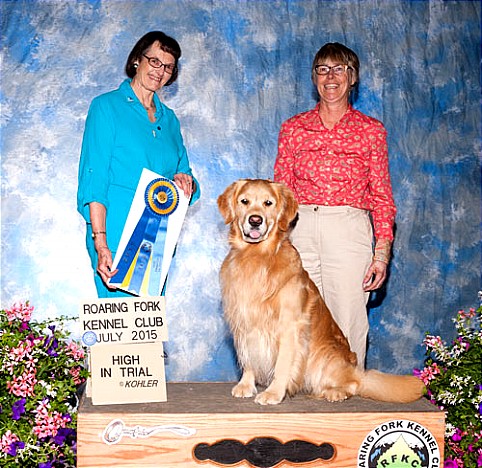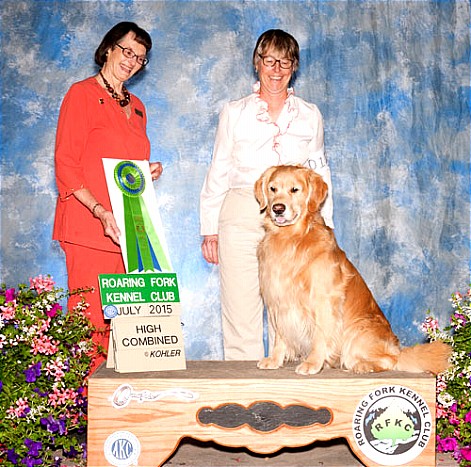 As for obedience, Puk earned his CD in 2011, his CDX in 2012 and his UD in 2013.  He finished the tenth leg for the UDX in January, 2015.  He has the OM1 and is 28 points short of the OM2.  He currently has 30 OTCH points…and counting.  Puk went HIT and HC at the Valdosta Kennel Club in Perry Georgia in April, 2015, under Judge Betty Brask and again went HIT and HC (2 different days) at the Roaring Fork Kennel Club in Eagle, Colorado in July, 2015 under Judge Linda Scanlon.